1. Laid-back Ambience
The island's motto has always been "Go Slow" and it's taken seriously by both locals and tourists. On Caye Caulker, the main ways to get around are on foot, bicycle or golf cart. Since the island is relatively small (only five miles long), it's way too easy for you to just kick off your shoes and explore.
Island life, whether short-lived or life-long, provides a much needed break from the hassle of the mainland. Once you arrive on the island the "Go Slow" lifestyle becomes easily adopted and you experience relaxation like no other.
2. Delicious Food
One of the best ways to showcase the melting pot of cultures that is Belize is through food! Some of the best places to visit for a good bite are the many small stalls that line the streets. Stop at one of these to eat like a local, or check out any of the numerous restaurants on the island.
As you probably expected, seafood is always on the menu. Conch, lobster, grouper, and other tasty fish are always readily available on the island (when in season). You might even be able to cook up your prized catch from a fun-filled fishing trip.
3. Abundant Marine Wildlife
You can never say you've had an authentic island experience unless you've gotten a chance to dive below the surface and discover the beauty that lives there.
The numerous marine reserves provide a place of refuge for marine animals and allow you to see first hand creatures like shark, stingrays, dolphins, sea turtles, schools of fish and vibrant coral structures.
4. Diver's Utopia
Caye Caulker, Belize, is home to some of the best diving experiences in the world. Diving adventures are enjoyed by novice and expert divers alike. Some of the best spots to dive are the Hol Chan Marine Reserve, which is about an hour away from Caye Caulker, and The Great Blue Hole.
Belize is one of the world's top diving destinations for a reason. We boast the second largest barrier reef in the world which several species of fish and coral call home.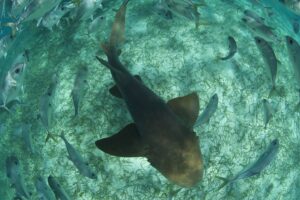 5. Island Havens
Whether you're visiting the island for the fun and thrill of water sports like fishing, scuba diving, or kayaking, or you've come to relax and forget the stress of daily life, you'll always need a comfortable place to stay. Stay at El Ben, and rest peacefully after a long day of underwater adventures, or stay right here on site and enjoy our spa, gym and swimming pool amenities.