As Belizean cayes and islands undergo rapid development, the main threat to mangrove habitats and ecosystems becomes destruction and removal. 
Most of the time, especially for development purposes, mangrove-protected shorelines are totally destroyed. Not only does this harm the organism being damaged, but it represents a loss for a number of young fish who live in the shallow waters surrounding the mangroves. 
Mangroves in Caye Caulker 
The mangrove population on Caye Caulker is mostly red, white, and black mangroves that grow in shallow water. The littoral forest on Caye Caulker sustains an ecosystem of sponges, anemones, and tons of fish. 
About 20% of mainland mangroves in Belize are protected, while on the cayes only 1% are under protection. Mangrove deforestation can cause irreversible damage to shores and beaches. 
"Resilient mangroves shorelines provide multiple buffers against climate change effects. In addition to serving as habitat for marine species and wildlife, mangroves also provide storm protection for coastal communities, a buffer against coastal erosion, carbon sinks, and additional resiliency for economically important habitat such as coral reef."
Adapted from Mangrove Conservation as Climate Change Adaptation in Placencia, Belize: A case study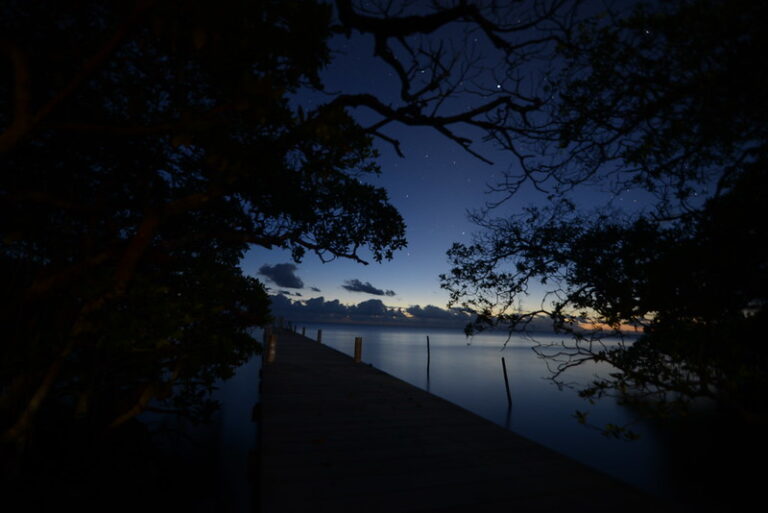 Our Principles
As an Island resort, we seek to promote responsible travel and sustainable tourism. We've kept the lush mangrove shoreline flourishing, including the roots and canopy.
We are committed to conserving all the natural resources on our property and maintaining the biodiversity that makes our resort so special.